22 Jan

Column Guards for Pallet Racking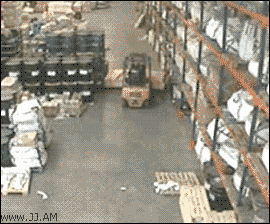 What are Column Guards for Pallet Racking?
Column guards protect the pallet rack upright from damage typically caused by a forklift.
If you have seen any of the frightening videos of pallet racking falling after taking a hit from a forklift then you probably have a good idea of why column guards for pallet racking are important. A pallet rack that takes an impact from a forklift can collapse completely. The falling rack could injure you, your employees, your equipment, and your products that were on the rack.
Are they effective?
The important thing to note is that any system will fail if the contact is hard enough. What you want is for the column guard to protect the rack system well enough until the user notices that there is a problem and corrects the action before damage is done. The ability of the column guard to do that action depends on how it is made. It is also heavily influenced by the factors surrounding the impact including the speed and force of the object that is contacting the column guard.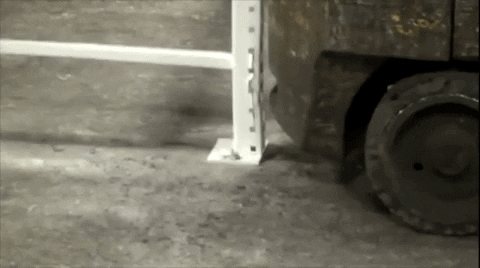 Can you stack multiple column guards?
With certain types of column guards you can stack multiple on top of each other to increase the amount of the upright that is protected. Many of the bolt-on versions of the column guard allow you to stack a few into their systems. Obviously, this increases your likelihood of surviving a contact because of the increased layers of protection available. The column guard or guards in this scenario will absorb more of the impact and, hopefully, will leave your pallet rack structurally sound and in its normal upright position.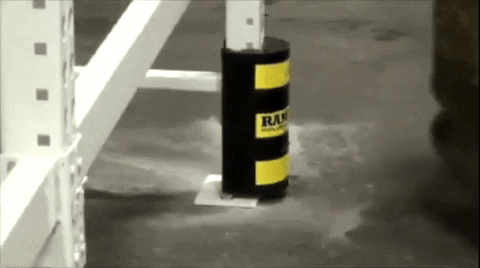 What types of column guards are there?
There are at least three main types of column guards:
Metal Column Guards
Metal column guards can either be bolted to the upright or anchored to the concrete. Metal column guards are popular and do provide some protection, but steel does not absorb much impact. Instead, metal column guards merely transfer the force of the impact into the concrete or into the pallet rack. Impacting a metal column guard commonly causes damage to the column guard itself, the concrete, or the pallet rack upright. The upright is often damaged where the bolts connect the column guard to the upright.
Plastic Column Guards
Plastic column guards strap or snap onto a pallet rack upright. Some are filled with air to act as a plastic airbag. Plastic column guards absorb a limited amount of impact. A plastic column guard is no match for a quickly moving forklift, but they do provide some protection. Some plastic column guards can bounce back and regain their pre-impact shape, but they often become permanently damaged. The plastic will crack, or they will become permanently dented.
Rubber Column Guards
The best example of a rubber column guard is the RAMGuard, pictured below. A RAMGuard has a specially made matrix of steel and rubber that makes it highly effective at taking impacts and leaving your pallet rack stable. These can be stacked on top of each other for additional impact protection.
What is the best type of column guard for pallet rack?
While any kind of pallet rack protection is better than nothing, we have seen that the RAMGuard is particularly good at protecting uprights. The RAMGuard works well because of the impact-absorbing rubber combined with the internal steel plate. The interplay between the two seems to give a pallet rack a good chance of surviving an accidental impact with a forklift.
The RAMGuard is also effective because it can absorb multiple impacts. Many column protectors become irreparably damaged once they have been impacted. The rubber RAMGuard bounces back and will continue protecting your pallet rack.
In short, if you have pallet racks or industrial shelving/racks in your warehouse then you should have a column guard on your racking to protect your people, yourself, and your product. Accidents happen; you should expect it and prepare for it. Column guards help keep your facility safe and avoid costly racking replacement.
Buy metal column guards or rubber RAMGuards to protect your pallet rack uprights.
Was this post helpful?
Let us know if you liked the post. That's the only way we can improve.